Need Support? We're Happy to Help
We've always believed that the best way to help users is to make our apps as simple as possible to use. Spend a little time exploring around Setlists, and you'll get the hang of it quickly.
Of course, we also want to be sure you can take advantage of all Setlists has to offer. Within the app, you'll find a help button, which gives you instant in-app access to our support email, as well as other resources that will help you keep up to date with our latest happenings.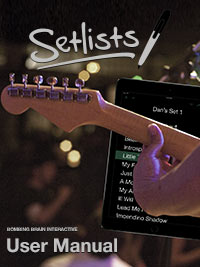 The Setlists User Manual
Another link you'll find on the help screen is to the Setlists User Manual, which is available for free on the iBookstore. This interactive guide explains all of Setlists' functions in detail.
Want to read the manual on your computer or iPhone? You can download a PDF of the manual here.
Still having trouble? You can always contact us.