Setlists 2
Coming Soon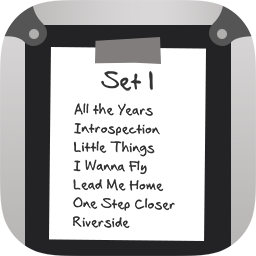 Catalog your repertoire. Prompt your lyrics live on stage. Keep everyone in sync.
If you perform live on stage, alone or with a group, Setlists will make you a better professional. Forget carrying around heavy binders of paper and writing up tonight's set on a napkin with a Sharpie. Setlists puts your entire song catalog into one simple app for your iPad or iPhone. Organize your songs into sets and prompt the lyrics and chords during live performance on multiple devices for everyone in the band.
The long-awaited update to Setlists is almost here. With an all-new design and tons of new features, Setlists will make you a better performer, both during the gig and at rehearsal.
Setlists 2 will be a free download, so you can try most of the features for yourself and see why so many use Setlists as their song organizer and lyric prompter of choice. With a one-time in-app purchase, you can unlock all of the unlimited and advanced features Setlists has to offer.[1]
Looking for support for Setlists 1? You can find our archived site here.
Users of version 1.x will get the Pro upgrade for free, as a thank you for being a loyal customer. Pro upgrade will unlock unlimited songs in the song catalog, multiple sets, unlimited Jam Sessions, and backup/sync to all your personal iOS devices.  ↩