Perform Like a Pro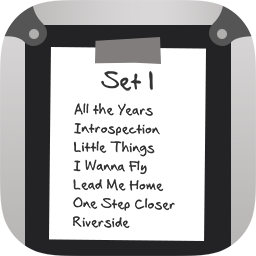 Catalog your repertoire. Prompt your lyrics live on stage. Keep everyone in sync.
If you perform live on stage, alone or with a group, Setlists will make you a better professional. Forget carrying around heavy binders of paper and writing up tonight's set on a napkin with a Sharpie. Setlists puts your entire song catalog into one simple app for your iPad or iPhone. Organize your songs into sets and prompt the lyrics and chords during live performance on multiple devices for everyone in the band.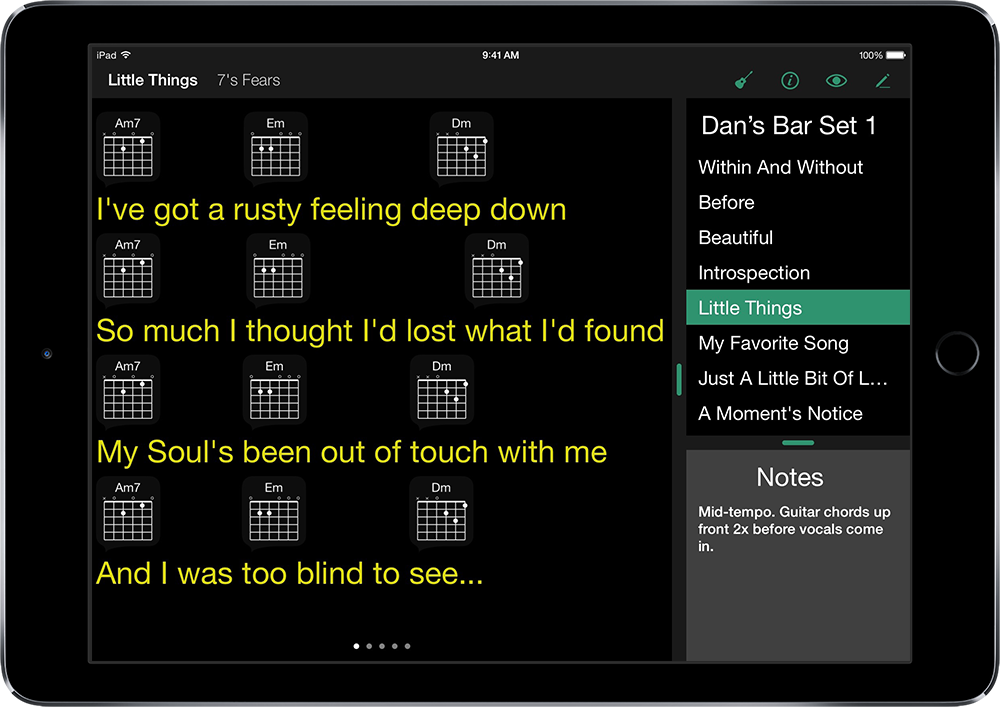 Version 2.0
The long-awaited update to Setlists is now here. With an all-new design and tons of new features, Setlists will make you a better performer, both during the gig and at rehearsal.
Setlists is a free download, so you can try most of the features for yourself and see why so many use Setlists as their song organizer and lyric prompter of choice. With a one-time in-app purchase, you can unlock all of the unlimited and advanced features Setlists has to offer.[1]
Download and Try for Free
One In-App Purchase Unlocks Every Feature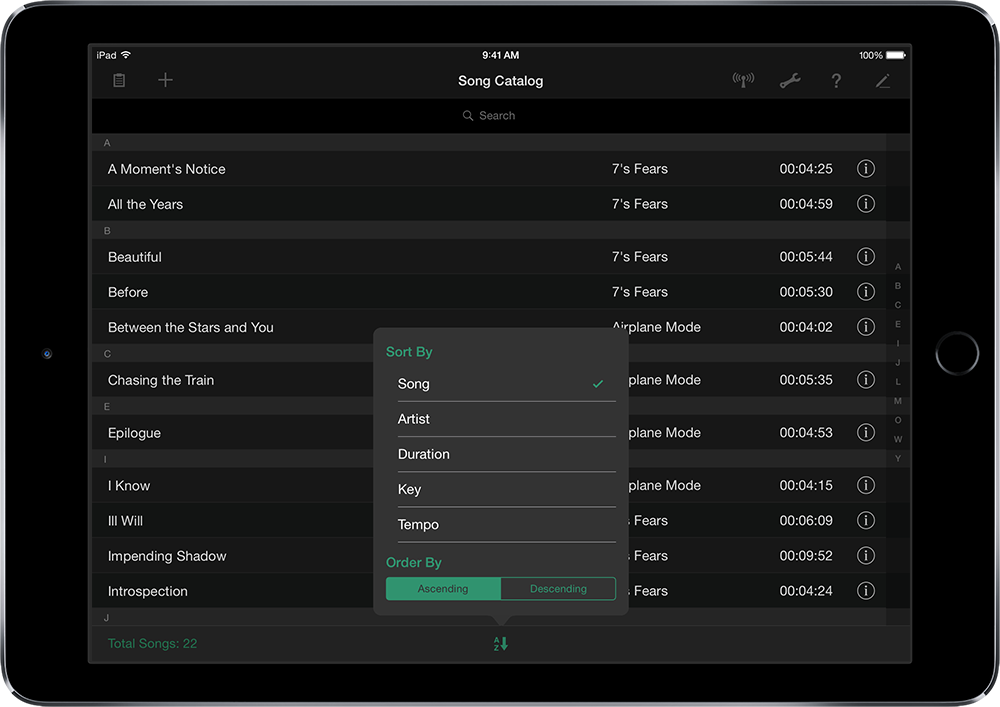 Song Catalog
Store information about every song in your catalog. Artist, title, tempo, duration, key signature, lyrics, and now even chords. Your catalog will store all the information you need to design the perfect set for tonight's performance.
Need 4 more minutes to fill out a 45-minute set? Sort your catalog by duration, and your shortest songs will be grouped together. Want to keep the crowd dancing? Sort your songs by tempo to find the songs with a similar pace. Looking to transition from A minor to C Major? Sort the catalog by key signature, and you'll find all your songs in C instantly. With Setlists, designing the perfect set has never been easier.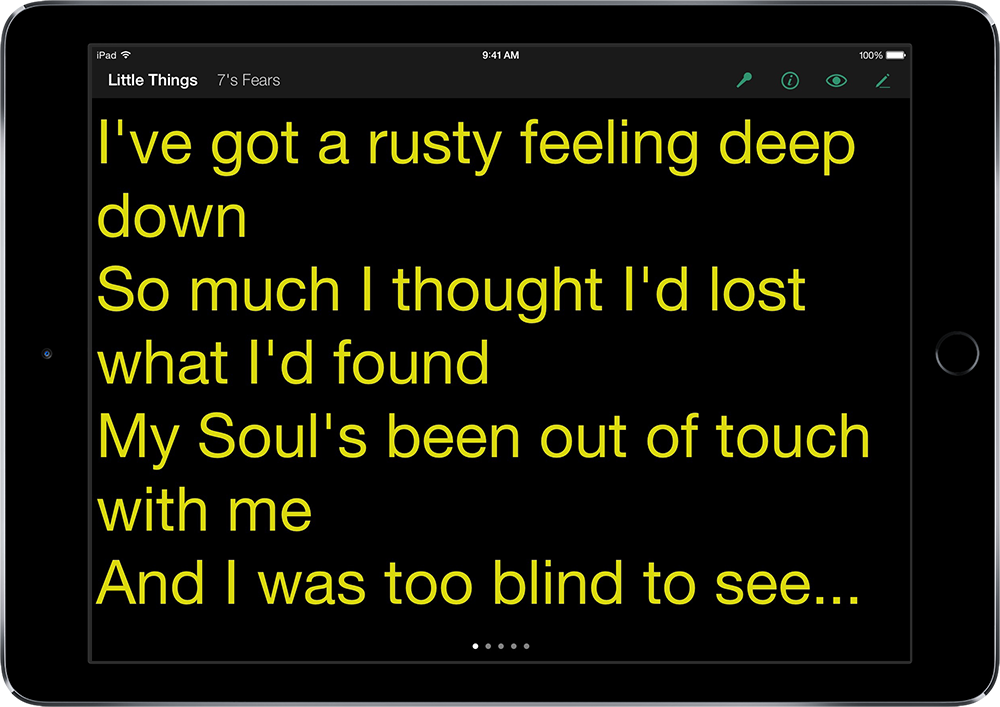 Lyric Prompting
Prompt your lyrics like a pro. One verse, chorus, and bridge at a time. Full screen and in the font and color of your choice. Advance with a simple swipe or with the touch of a Bluetooth foot pedal or hand switch.
Alternatively, for all you singers who have their hands full with an instrument, auto-scroll your lyrics at your desired pace.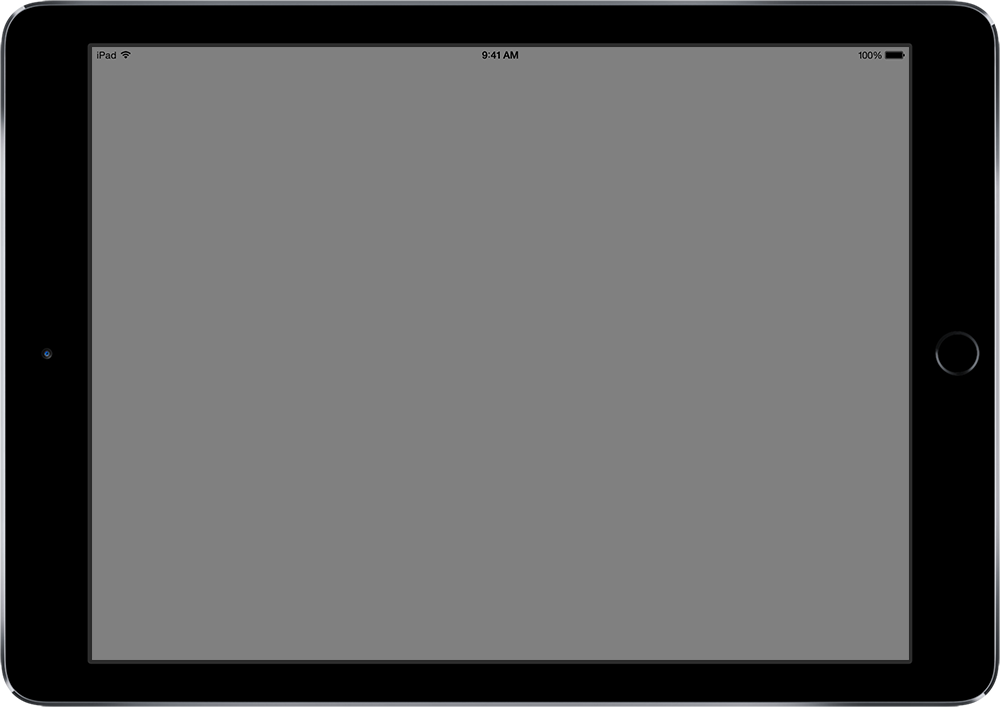 Chord Changes
Add chord changes to your lyric sheets in a variety of styles, with fingering charts for guitar, ukulele, baritone ukulele, banjo, 5-string banjo, and mandolin. You'll never have to worry about forgetting that chord progression again.
Add your own chords manually, or import songs that include chords in the open standard ChordPro format.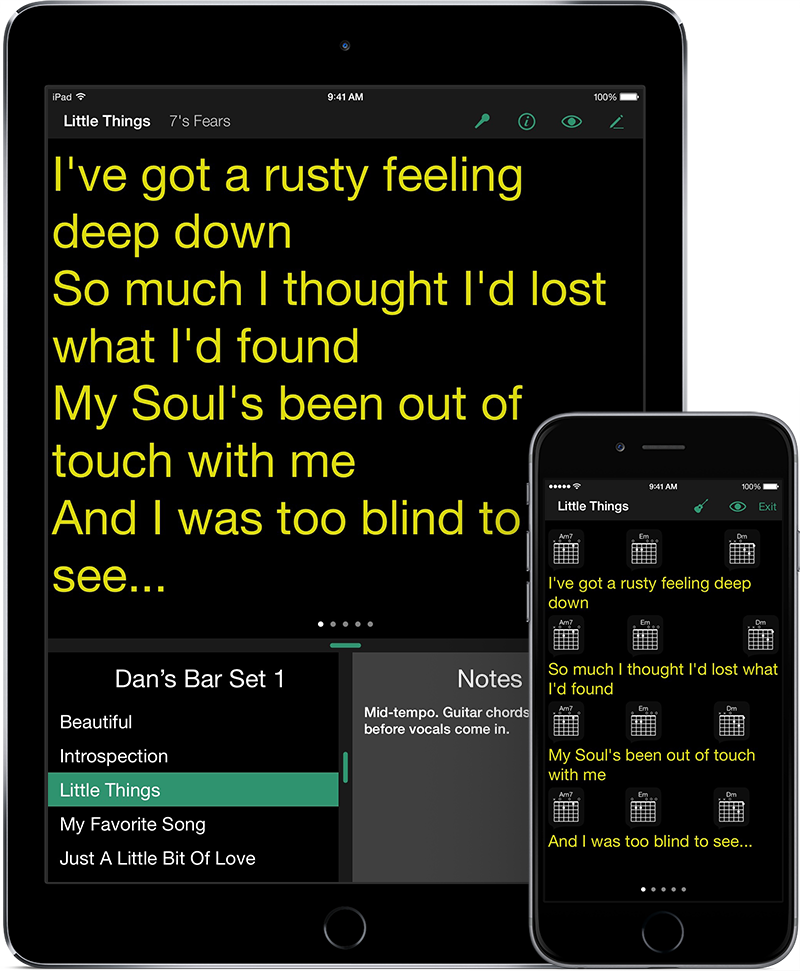 Jam Session
Those who perform in a group can keep everyone in sync using the Jam Session feature. Connect an additional iOS device for every member of the group, and each performer can have his or her own view of the lyrics, the upcoming songs in the set, or both.[2] You can even choose to view chords for various instruments, while other band members see a different instrument or no chords at all.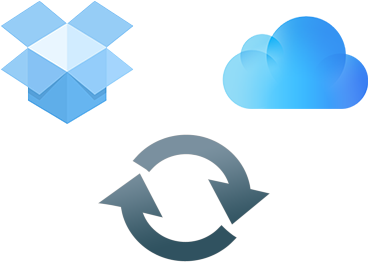 Sync and Backup
You spend a lot of time organizing your song catalog and entering all that precious data. Now you can back it all up using iCloud or Dropbox. Have an iPhone and an iPad? Now you can keep your catalog in sync on all of your personal iOS devices.[3] You can also export individual songs at any time to the service of your choice, Dropbox, Box, Google Drive, or iTunes sync.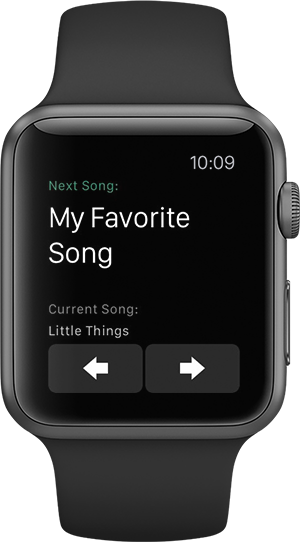 Apple Watch
Sometimes you just need a quick glance at the next song. If you own Apple Watch, you can see current and upcoming song information and advance to the next song with a tap on your wrist.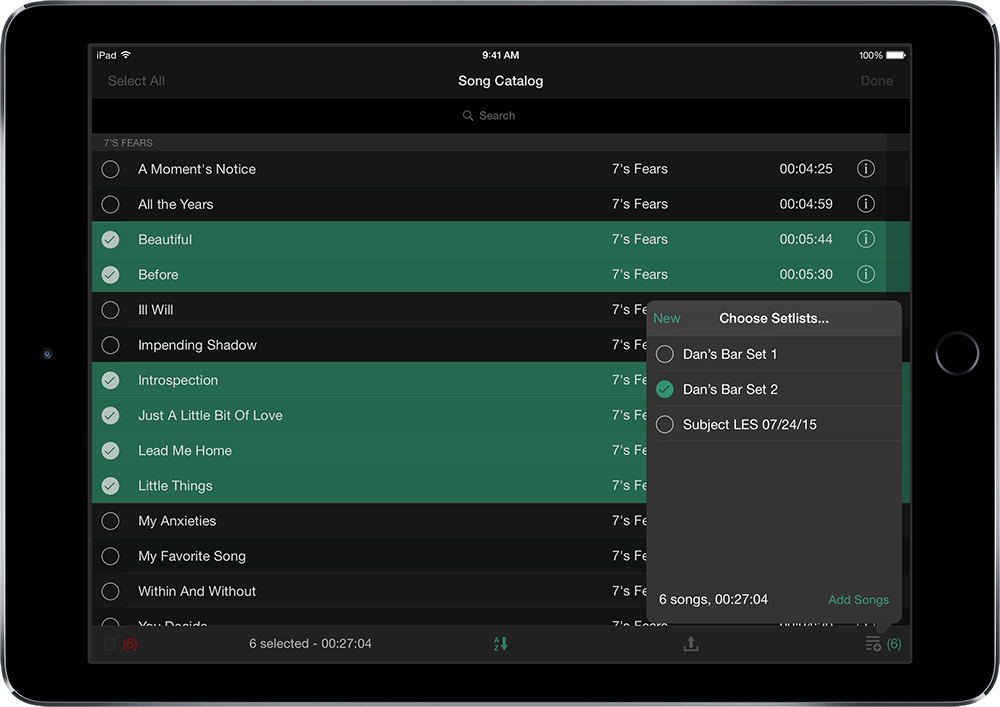 And Much More…
Setlists is packed full of features for making your performance as professional as can be.
Import songs in .txt and .rtf formats, from a variety of sources, including Dropbox, Box, Google Drive, and iTunes. Or search for songs on the web and quickly copy lyrics into a new song file.
Export songs once they've been formatted, so you can share them with others, or keep a backup version set up exactly how you like it.
Add songs in ChordPro: Setlists is now compatible with the ChordPro format, an open standard for lyrics and chord changes.
Use Rich Text formatting to add bold, underline, multiple colors, and indentation to your songs.
Quickly duplicate sets, so you can make slight variations for other gigs.
Print or email your songs or sets right from your iOS device. (Requires an iOS compatible printer)
Control lyric prompting from a variety of Bluetooth foot pedal and hand controlled devices, including those from AirTurn, Cicada, Satechi, Apple, and more.
Keep notes on any song you like, such as keyboard patches, number of repetitions for a chorus, who starts the song, etc.
View your upcoming songs and your lyrics at once with the Split Screen view.(iPad only)
Keep your screen predominantly dark during performance with dark set mode, so the app won't interfere with your stage lighting.
Mirror your lyrics text for teleprompter reflector glass hardware
Choose your font for set view, for maximum readability.
Download and try Setlists today for free, and see why it's the professional's choice.
Users of version 1.x will get the Pro upgrade for free, as a thank you for being a loyal customer. Pro upgrade will unlock unlimited songs in the song catalog, multiple sets, unlimited Jam Sessions, and backup/sync to all your personal iOS devices.  ↩

Split view mode of both lyrics and upcoming songs available on iPad only. Pro upgrade will unlock unlimited Jam Sessions. Each participating device must be upgraded.  ↩

Backup and Sync require Pro upgrade. (Free for Setlists 1 purchasers.)  ↩